Adam Brodsky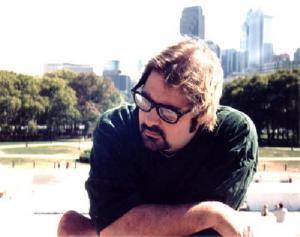 Recently named Best Folk Performer in the Philadelphia City Paper Music Awards, Adam Brodsky is one of the more distinct voices of folk in Philadelphia today. Adam Brodsky sings and strums the same way he writes relentlessly and without compromise saying what everyone else wishes they could say. His music is a voice for oppressed rights, oppressed cubicle workers and oppressed boyfriends everywhere, writing with a brash sense of humor and a healthy respect for the roots of American Folk Music.

That respect has been highlighted this year. Adam spent the summer presenting a program called A Brief History of Folk Music at 30th Street Station in Philadelphia. Sponsored by Smithsonian Folkways, the program offered an overview of the folk tradition including murder ballads, cowboy songs, sea shanties, antifolk and protest songs.

However, he is best known for his outrageous style, clever wordplay and a gift for performance. He leaves an unforgettable impression and a lot of laughter in his wake.

Adam has spent this year touring the East Coast and Midwest. In Philadelphia, he sells out premier listening rooms including The Point and Tin Angel. And he has had the honor of playing with performers like Kris Kristofferson, Kinky Friedman, The Holy Modul Rounders, Moxy Fruvous, Hamell on Trial, Jill Sobule, the Dave Brockie Experience (GWAR without the masks), Dan Bern and Robbie Fulks.
He has performed at major venues along the east and west coast including:

The Khyber and NorthStar - Philadelphia, PA
East End Cafe - Newark, DE
Club Passim and Kendall Cafe - Cambridge, MA
Rosebud and Club Cafe - Pittsburgh, PA
Iota Club and Cafe and the Metro Cafe - Washington, DC
Happy Endings and Armory High
(formerly Styleens Rhythm Palace) - Syracuse, NY
Mohawk and Nietzsche's - Buffalo, NY

antifolk: (an-ti-fok), n., v., adj. a subgenre of folk music. uniting the traditions of folk music with those of punk rock. Opposed to the caramelized sounds pop folk, antifolk embraces the traditions of Woody Guthrie and Joey Ramone and Dock Boggs. See Adam Brodsky.