Sunday, April 06, 2008 7pm
ithica, ny
"you'll have the time of your half-life" HA!
508 west state st
ithica, ny usa! usa!
phone: 607.273.2291
Purchase tickets online: click here
Website: atomicloungeithaca.com/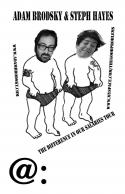 a million years ago, i was put on the wait list at ithaca college. But, as you know, the waiting is the hardest part, so i decided to go somewhere else. BIG MISTAKE. But i've finally made it back to Ithaca, only this time, not into the hallowed halls and quads of the small school, fore'er overshadowed by its snooty ivy-covered bro. but rather into an atomic lounge, not just any atomic lounge, but felicias.

I'll be clinging to Steph's skirts and pleading relevance. look out ladies, here i come.