Saturday, September 06, 2008 20:00
Jenkintown, PA
Adam And Steph's Last Chance
539 San Diego Ave
Jenkintown, PA 19125 usa! usa!
phone: 215.663.8287
Price: $15.00
Purchase tickets online: click here
Website: www.thelastchancecafe.net/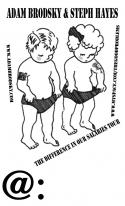 I officially applied for a permit to voice my dissenting opinion in the "Free Speech Zone" at the RNC in St. Paul. And, this being the non perishable government for, of, by and in spite of, the people, this morning, I received my credentials in the mail. Apparently, I'm slotted to speak on Saturday 9/6/2008 at 8oclock in the pm, in a hippie basement in Jenkintown. I called chacka fattah's office and some lovely sounding aide told me that i was one of the lucky ones. Most folk werent even granted permits and are not permitted to perform until the first Wednesday in November. I was also assured that my Juneau peccadillo with that underage girl was not at all a deciding factor in my permit grant. (i wonder what ever became of that great little gal)

anyway, straight up, Jim and Shiela run a fantastic house concert series and you all should come to it. Not only is it a great way to hear songs, it's also impossible to not feel like part of a community when you're around them, and their friends. Seriously, if they're nice to me, think how much they'll fawn over you.

you should call for reservations, 215.663.8287 or go to their website for more info. http://www.thelastchancecafe.net/

also, Steph will be performing, and if you don't have a little crush on steph, you are a pod person.