Tuesday, April 01, 2008 9:00pm
New York, New York
Adam Brodsky & Steph Hayes
96 Avenue A New York New York
New York, New York
Website: ontheinside.info/beat-the-devil/sidewalk-cafe/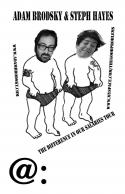 I go on at 9 pm Sharp, Steph Plays at 9:30pm Sharp.
a return to my roots.

it's been a long long time since i've played the sidewalk. The big trepidation for me, is that it'll be the first time i'm schlepping my big ole RV into Manhattan. You might wanna show up early just to see me park.